Hevreh is a Hebrew word meaning
"Circle of Friends"
Our group has come together from many places; together with our wonderful audiences and listeners, we have truly become a circle of friends. We trained as classical musicians at the Juilliard and Manhattan Schools of Music, SUNY Stonybrook, Brooklyn College, and the Jerusalem Conservatory in Israel; institutions that inspired our passions for music education and engagement with our audiences. We have been fortunate in our careers, friendships, and travels to have the opportunity to explore many different areas of music, including jazz, composition, conducting, and many musical traditions from around the world.
Judith Dansker and Laurie Friedman have been lifelong friends and colleagues, meeting as music students at the Manhattan School of Music. They were founding members of the Galliard Woodwind Quintet, which garnered critical acclaim for their performances at the Frick Museum, Carnegie Recital Hall and the Library of Congress.
Adam Morrisson moved from New York City to Israel when he was in high school, and attended music school in Jerusalem. He furthered his studies in Composition and Jazz at the California Institute of the Arts.
Jeff Adler is an active performer in the orchestras of Broadway musicals, including the Lion King, Les Miserables, and Mary Poppins. Through one of his pit band colleagues, he was introduced to Hawk Littlejohn, a Cherokee Medicine Man and flute maker. Hawk was a mentor to Jeff as he began to incorporate Cherokee flutes into his performance and compositions, and introduced him to a circle of friends and colleagues including Jeff's flute-maker, Daniel Bigay.
Judy's daughter Alicia became Bat Mitzvah in 2001 at Hevreh of Southern Berkshire in Great Barrington, MA. This ceremony, which marks the transition into adulthood, includes a ritual in which a talit, or prayer shawl, is wrapped around the shoulders of the young adult for the first time, signifying that the recipient dons the Jewish tradition as a garment. For Alicia's bat mitzvah, her family selected an excerpt from Song of the Sky Loom, part of the oral tradition of the Tewa speakers of the southwestern United States. As a gift to Alicia and her family, Jeff wrote a duet for two Cherokee flutes which he and Laurie performed to accompany this reading. He titled it "Garment of Brightness" — a reference to a line from the Song of the Sky Loom, and the wearing of the talit.
From this gift, the seed for a new and exciting project was born: Jeff started to compose pieces for our current complement of instruments, which includes Cherokee flutes, oboe, English horn, clarinet, bass clarinet, percussion, keyboard, and shofar. The unique combination of reed instruments and flutes evokes a sense of energetic clarity and introspection, focus and expansiveness.
Since 2001, audiences around the world have embraced our sound and expanded our hevreh. Our overseas tours have been the spark for new relationships, both personal and professional, and the catalyst for life-changing experiences, both surreal and sublime. We performed at the stunningly beautiful Spanish and Jerusalem Synagogues in Prague and at the magnificent Church of St. Stephen in Vienna. In Germany, we were met by a huge, warm crowd at a concert in Bonn, sponsored by the Gesellshaft für Jüdische-Christlich Zusammanarbeit (Society for Jewish-Christian Collaboration).
Then, there have been the challenging times: Carrying our instruments up five steep flights of stairs. Lodgings where the air was thick with the smoke of people partying until 4 AM. Attempting (with limited success) to drive an equipment van through the narrow, winding streets of Amsterdam... which were packed with crowds in town for the Amsterdam Marathon! Being trapped on a packed train under piles of instruments and equipment. Finding ourselves on the wrong section of the train heading to Krakow and running wildly through the train with all of our instruments and a full-sized keyboard! But at the end of the day, the group that can laugh at their troubles together is the group that stays together! Good friendship makes for good music, and great stories.
Judith Dansker
Oboe, Oboe D'Amore, English Horn, Flutes, Percussion
Judith Dansker is a solo and chamber music performer who has appeared at the Frick Museum, Weill Recital Hall (Carnegie Hall), Alice Tully Hall (Lincoln Center), the Phillips Collection and the Library of Congress, among many others. She received the Bachelor & Master of Music Degrees from the Juilliard School of Music where she studied with renowned oboist Robert Bloom. She has performed with numerous ensembles including the New York Baroque Consort, New York Kammermusiker, Ariel Chamber Players, Trio Sonata, Infusion, International Chamber Artists, Mostly Mozart Festival, New York Shakespeare Festival, Berkshire Bach Society, Connecticut Grand Opera, Hartford Symphony, and has been an Artist/Faculty member for the Kent Silver Bay Chamber Music Festival. She has also performed with Linda Skernick & Friends, the Columbia Festival Orchestra Chamber Players and she was invited to perform at the Alice Tully Hall 80th Birthday Concert for Robert Bloom. Ms. Dansker is a founding member of the Galliard Woodwind Quintet with performances nationwide. Their Library of Congress concert was recorded for American Public Radio and subsequent performances were broadcast nationwide and on Radio France and Radio Netherlands. The New York Times has said of her playing: " her lovely solo lines were very skillfully handled." Ms. Dansker is a former faculty member at the University of South Carolina and is currently Professor of Oboe at Hofstra University and on the faculty of Simons Rock of Bard College.


Jeff Adler
composer, Bass Clarinet, Native American Flutes
Jeff Adler is a prolific composer and woodwind musician from New York City. In addition to being the resident composer for the Hevreh Ensemble, he writes extensively for The Jewel Orchestra of St. Paul's Church, Brooklyn and for two World Music Ensembles: Malamalama and THG Orchestra of Mt. Pisgah and has recorded a CD of his original Native American Flute music. He composed the music for the Vita Nova production of the theatrical work, Harriet and Anne, which had its New York premiere in September 2005 at the Producer's Club in New York City. His work titled " In Search of Unification" for Bass Clarinet and Marimba was premiered in May 2005 in California at Sacramento State University. The work was also featured in an April 2006 concert by the Omni Ensemble in New York City.
As a clarinetist, Jeff has performed with many orchestras such as: The American Symphony, The Long Island Philharmonic, The Connecticut Grand Opera The Queens Symphony, Queens Oratorio Society and The Long Island Symphony. He was a member of the Silver Bay Music Festival, The Adirondack Chamber Players and the new music group, Infusion. He is currently on the faculty of Bard College at Simons Rock and he has recorded for Opus One and CRI Records, the Queens Symphony and Queens Oratorio Society. In addition, he has performed frequently with Broadway Show Orchestras including Les Miserables, The Lion King, Crazy For You, Beauty & the Beast, Secret Garden, Jerome Robbins' Broadway, Caroline or Change, Titanic, Jekyll & Hyde, Passion, and Wicked.
Laurie Friedman
CLarinet, Native American Flute, Percussion, ShoFar
Laurie Friedman holds the Bachelor of Music Degree from the Manhattan School of Music where she was a full scholarship student of Leon Russianoff. She received her Master of Music Degree from Brooklyn College, during which she was awarded the Abraham Klotzman Memorial Scholarship. Ms. Friedman was chosen to participate in the prestigious Blossom Music Festival with the Cleveland Orchestra. Subsequently she won the Principal Clarinet position with the Beersheva Orchestra in Israel. She has performed with many Orchestras including the Long Island Philharmonic, Village Light Opera, Connecticut Grand Opera, New Jersey Pops Orchestra, the Goldman Band, and the Tulsa Ballet Orchestra. Along with Ms. Dansker, she is a founding member of the Galliard Quintet with concerts nationwide including performances at the Gardner Museum, Boston, the Frick Museum in Pittsburgh, The Jewish Museum (NYC), and the Jacksonville Museum of Arts. She has written several children's stories for Woodwind Quintet and Narrator including The Pied Piper of Hamlin, The Hunchback of Notre Dame and Peer Gynt. She has also performed for the Austrian Embassy, The Beethoven Festival, and was a Faculty Artist for the Silver Bay Music Festival. She has performed for numerous radio performances on WQXR, WBAI, and WNYC in New York City and for WCLV in Cleveland. Ms. Friedman is currently Professor of Clarinet Studies at Hofstra University and Instrumental Instructor at Brooklyn College Academy. She has taught at Brooklyn College, College of Staten Island, Sacramento State University and California State University at Davis. She has also coached chamber music at the Chico-Sac Workshop held at Sacramento State University.
Adam Morrisson
Keyboard, Piano
Adam Morrison completed studies in piano and composition at the Rubin Academy in Jerusalem and later earned an MFA in World Music Studies at California Institute of the Arts in Los Angeles. He studied privately with David Bar-Illan, Joanne Brackeen and Gary Dial while still in high school, was a member of Karl Berger's Creative Music Orchestra in Woodstock and worked with the Art Ensemble of Chicago, Jack DeJohnette and Frederic Rzewski.
Adam emigrated to Israel in 1980 and was a founding member of the award-winning jazz-rock band "Tslil Shachen." A benefit performance in the town of Neve Shalom (a Jewish and Arab village) was the first of an ongoing series of concerts that Mr. Morrison has continued to produce, combining musicians from diverse backgrounds; raising awareness and funds for reconciliation for an important cause. In 1990, Adam formed a quartet of Israeli musicians that performed at an event honoring both the Dalai Lama and Elie Wiesel. Currently, Adam divides his time between teaching, performing and recording. He performs in NYC often with Adam Nussbaum, Chris Potter, Elliot Zigmund and other jazz icons as well as with ethnic music figures such as Hassan Hakmoun (Morocco), Nilsson Matta (Brazil) and Ara Dinkjian (Armenia).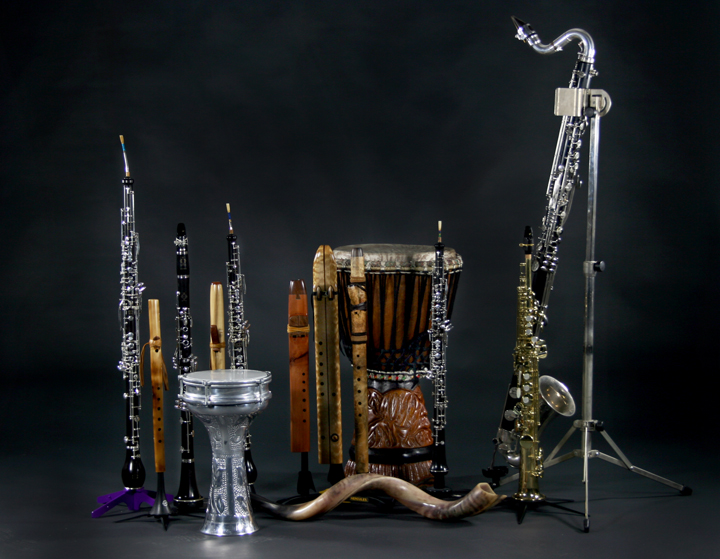 Send mail to:
HEVREH ENSEMBLE
P.O. Box 515
Salisbury, CT 06068